Ace Frehley Announces Plans to Perform 1978 Solo Album in Its Entirety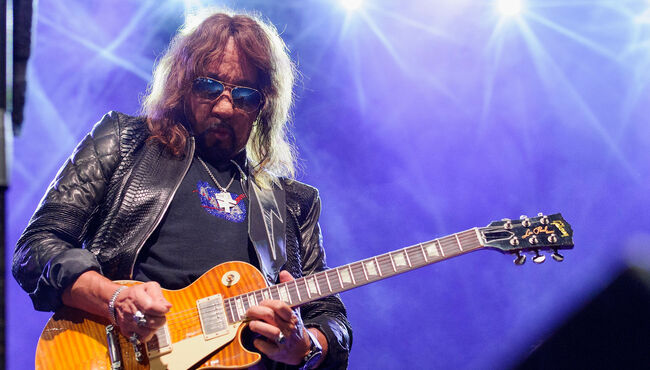 Co-founding KISS guitarist Ace Frehley has announced plans to celebrate the 40th anniversary of his hit solo debut.
The December 9 performance at the New Jersey KISS Expo in Parsippany, NJ, will mark the first time Frehley has every performed the album in full in a live concert setting.
You can get tickets here.
Frehley's eponymous solo debut was the most successful of the four solo albums by KISS members released simultaneously in '78. Peaking at No. 26 on the Billboard 200, the album outsold the solo efforts of Frehley's band mates and also produced the only enduring radio hit of the bunch with "New York Groove."
The guitarist's special anniversary performance is timed along with the release of an Ace Frehley 40th Anniversary Box Set, available now.
"I'm the only successful solo artist that was one of the founding members of KISS," Frehley pointed out to Q104.3 New York's Jim Kerr and Shelli Sonstein while talking about his latest solo album, which is also available now.
Frehley initially planned to title his new album '40 Years Later,' in reference to the time that's passed since his debut. But in fact, he wound up calling the record Spaceman (a reference to his iconic KISS stage persona) at the urging of former band mate Gene Simmons.
"I wasn't gonna argue with him!" Frehley said, acknowledging Simmons' marketing acumen.
Get all of Ace Frehley's tour dates here.
Photo: Getty Images